The team at 3D Safety are expert risk managers, specialising in compliance programs across mining, infrastructure, utilities and construction industries.
Our team is made up of experienced trainers and trade qualified technicians to provide you with assurance and certainty for all your compliance needs. Whether we are conducting a Safety Assessment of your operations; reviewing your Welding Management Plan or training your staff to work in Confined Spaces, you can be sure you are in expert hands.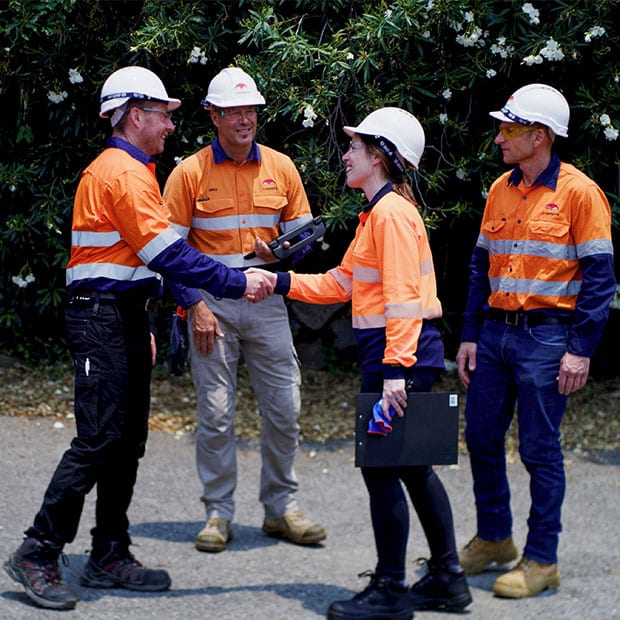 Tony Conacher
Director
Tony has worked in the workplace safety industry for over 40 years. He founded 3D Safety Services in 1987 from a need he saw for training and maintenance in specialised equipment. Today he oversees the management and development of 3D Safety Services as well as 3D Safety Systems and WaterJel Burn Treatment.
Todd Chapman
Operations Manager
Todd has over 15 years' experience working in the training and safety industry with a broad range of clients across high risk industries - including utilities, mining, manufacturing, infrastructure and engineering. Todd's trade background is in Boilermaking and Welding, with 30 years in the industrial environment he has built long-lasting business relationships through performance and credibility. Todd has attained a Diploma of Management, Diploma of Work Health and Safety, Certificate IV in Training and Assessment as well as courses in Quality Auditing and Managing WHS Risks.
Peter Budden
NSW Trainer/Assessor and Consultant
Peter has worked for 3D Safety for over 15 years, prior to this Pete worked at BHP Steelworks as a tradesman at the coke ovens. His role involved high risk confined space work with exposure to toxic and flammable gases and liquids often requiring the use of various types of breathing apparatus and safety equipment to control these high risk atmospheres. Pete now shares his industry knowledge and experience in his role as Confined Space trainer and consultant at 3D Safety. Peter has completed his Fitting and Machining Trade as well as Engineering Modules and courses including Hydraulics, Pneumatics, Electric Welding, Safe Handling and Use of Oxy Fuel Gas Equipment, Class 4 Rigger, Contractor Management, Certificate IV in Training and Assessment, Quality Auditing and Managing WHS Risks.
Greg Ballantyne
NSW Trainer/Assessor and Consultant
Greg is a long-standing member of the team having worked with 3D Safety since 1999. With 21 years experience in the business he works across all aspects of the service business including training, safety assessments, oxy/fuel inspections and maintenance. Greg runs our training programs for Working at Heights, MDG25 and Welding Safety. He holds a Certificate IV in Training and Assessment and has completed courses in Quality Auditing and Managing WHS Risks.
Adam Choice
NSW Consultant
Adam has worked as a consultant for 3D Safety for 4 years prior to this he worked as a Boilermaker in Structural Fabrication and Site Installation. Adam is a qualified Boilermaker with a Certificate III in Engineering - Fabrication Trade.
Adam Dolbel
NSW Central Tablelands Consultant
Adam joined 3D Safety in October 2020 after 11 years in the mechanical services industry. Adam is a trade qualified mechanic and during his career has worked as a Mechanic, Foreman, Service Advisor and Service Manager.
Sheldon Alcantara
QLD Business Development Manager
With substantial acumen across large multi-nationals focused on Manufacturing, Sheldon's skillset is very much a ``generalist`` as he has worked across both Operations and Sales in Senior Management positions. He has had the opportunity to set up Manufacturing operations from the ground up in both Shanghai and Ho Chi Minh City. Sheldon has an innate ability to clearly understand the clients perspective and align himself to those needs.
Steve Wager
QLD Trainer/Assessor and Consultant
Steve has been involved with the Metal Trades industry for over 30 years. He specialises in the development of safe systems of work, oxygen and fuel equipment inspections and work site inspections. Steve runs training programs for Confined Space and Working at Heights for various clients within the mining, fabrication, government and construction industries. Steve has completed his Certificate IV in Training and Assessment as well as courses in Quality Auditing and Managing WHS Risk.
Werner Smit
Trainer/Assessor
Werner recently joined the 3D Safety team after 15 years in the commercial training sector as both a trainer/assessor and running an RTO that specialised in the fields of Confined Space, Working at Height, Gas Testing and Operation of Breathing Apparatus. He began his working life initially spending 10 years in the military as a heavy road transport mechanic and as a caving adventure training facilitator. He is an authorised Work Health and Safety Officer and has a post graduate qualification in occupational health and safety and Certificate IV in Training and Assessment. He has also completed courses in ICAM Incident Investigation, Return to Work Coordination, Quality Auditing and Risk Management to mention a few.
Greg Schell
QLD Consultant
Greg has worked as a consultant for 3D Safety for 12 years prior to this he trained and worked as an electronics technician in radio and telecommunications. Greg has a restricted electrical licence and Certificate IV in Training and Assessment